Call for Papers: a Special Issue on Public Governance and Policy in the Sharing Era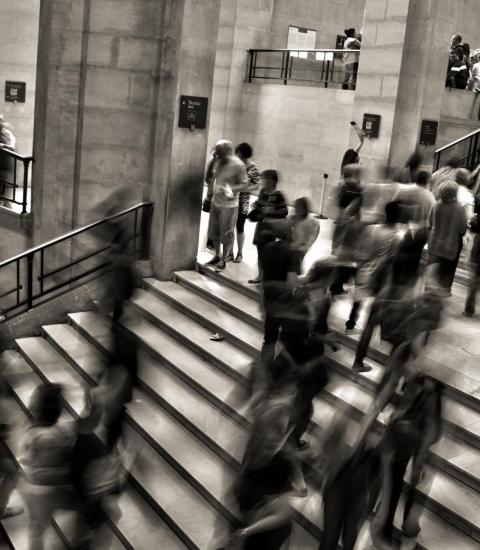 16 November 2018
Special Issue: Public Governance and Policy in the Sharing Era
Guest Editors of the Special Issue:
Dr. Sukumar. Ganapati is an Associate Professor at Florida International University. Dr. S. Ganapati's research interests are both international and domestic. His research focuses on e-government and information technology applications. He has over 30 refereed publications. This includes peer reviewed articles in top ranked research journals public administration and planning journals. He has authored three IBM Center for the Business of Government monographs on use of information technology in the public sector.
Sukumar Ganapati (ganapati@fiu.edu);
Associate Professor
Department of Public Policy and Administration, PCA 363B
School of International and Public Affairs
Florida International University
Miami, FL 33199
Tel. (305) 348-6275
Fax (305) 348-5848
Dr. Christopher G. Reddick is Professor in the Department of Public Administration within the College of Public Policy at The University of Texas at San Antonio. He was founding Editor-in-Chief, International Journal of Public Administration in the Digital Age and Series Editor, Public Administration and Information Technology (Springer). His research interests include big data and big data analytics in government, citizen-centric e-governance, social media policy and use in government and open data policy. Professor Reddick published nearly 100 journal articles and 10 books. He published in Public Administration Quarterly, Government Information Quarterly, International Journal of E-Government, Transforming Government: People, Process and Policy, Information Polity, Social Sciences Computer Review, and Journal of Homeland Security and Emergency Management.
Christopher G. Reddick (Chris.Reddick@utsa.edu)
Professor
College of Public Policy
Department of Public Administration
The University of Texas at San Antonio
501 W. César E. Chávez Blvd.
San Antonio, Texas 78207
USA
Phone: (210) 458-2502
Fax: (210) 458-2536
Email:chris.reddick@utsa.edu
Scope of the Special Issue
Sharing economy is broadly characterized by peer-to-peer exchanges of value (e.g., goods or services) utilizing Internet platforms. The sharing economy is also variously referred to as "collaborative economy" (Botsman & Rogers, 2010), "crowd-based capitalism" (Sundararajan, 2016), "elancing" (Aguinis & Lawal, 2013), "gig economy" (Mulcahy, 2016), "mesh economy" (Gansky, 2010), "on-demand economy" ("The Future of Work," 2015), and the "platform economy" (Parker, Van Alstyne, & Choudary, 2016). U.S. Department of Commerce's Economics and Statistics Administration (ESA) (2016) focused more narrowly on "digital matching firms." Whatever terms are used, they signify different dimensions of the rapidly evolving digital platform economy over the last decade.
The sharing economy firms have grown exponentially, surpassing well-established private firms in the sector. Airbnb, Lyft, and Uber are among the most familiar ones that have grown very fast. With the phenomenal growth of Uber, many also refer to the new digital economy as the Uber economy. Uber (started in 2009) is valued over US $68 billion, which is more than each of the three big American automobile firms of Chrysler, Ford, and General Motors. Airbnb (launched in 2008) is valued at over $30 billion, which is more than the Hilton hotel chain and nearly as much as the Marriott hotels. PricewaterhouseCoopers (2015) pegged the sharing economy to grow from $15 billion dollars in 2014 to $335 billion dollars in 2025. Indeed, the sharing economy has increasingly become prevalent across several sectors such as transportation (Uber, Lyft), accommodation (Airbnb, VRBO, Couchsurfing), delivery and home services (Instacart, Postmates, Taskrabbit), and other activities.
The rapid growth in the sharing economy has both its champions and its detractors. The champions view the sharing economy as an innovative phenomenon, which takes advantage of spare labor (gigs) and underutilized assets. They celebrate the consequent disruption of established business models and see potential growth in the sharing economy. Detractors highlight the downside of the disruptive effects of the sharing economy, wherein the traditional norms of labor are circumvented. The sharing economy challenges the labor unions and more established businesses. For example, taxi unions across the world have been pitted against the transportation platforms such as Uber and Lyft; hotel chains criticize Airbnb for cutting into their market.
The rapid rise of the sharing economy is pertinent for public governance and policy. There are important questions on public benefits and challenges of the emerging digital platforms. The sharing economy directly affects local economy, and local governments are scrambling to deal with the economy's impact. As regulators, government agencies have had a paradoxical role, with mixed reactions to sharing transportation services, accommodations, and gig labor. Reactions to the sharing economy have ranged from welcoming acceptance to that of stringent bans. Despite sharing economy's rapid rise, e-government researchers and policymakers have hardly dealt with consequences of the sharing economy (Ganapati & Reddick, 2018). Major public administration, policy, and e-government journals have not attended to the growth of sharing economy's impacts.
It is in this context that we propose the track to take stock of the major strands of the sharing economy debates and initiate a broad research agenda on the nexus between sharing economy and the public sector. The sharing economy shifts focus from how information and communications technologies can enhance organizational performance and citizen engagement. Sharing economy fundamentally affects the broader economic and governance processes. We look forward to papers that broadly deal with following topics (but are not limited to the following):
Challenges and Opportunities of Sharing Economy for Public Sector

Impact of Sharing Economy on Governance

Conceptual, Data, and Methodological Issues of Sharing Economy

Policy Determinants of Sharing Economy's Growth

Factors Affecting Policies that Attract or Resist Sharing Economy

Impact of Sharing Economy on Government Taxes and Revenues

Planning and Zoning Changes in Sharing Economy

Public Service Delivery in the Sharing Age

Equity Issues in the Sharing Economy

Privacy and Security in the Sharing Economy

Human Resources in the Gig Economy
Important Dates
June 1, 2019 - Deadline for 500 word paper proposal abstract. Please email your abstract to Sukumar Ganapati (ganapati@fiu.edu) and Christopher G. Reddick (chris.reddick@utsa.edu).
July 15, 2019 - Feedback on submitted abstracts from guest editors
September 15, 2019 - Deadline for full article submission. Invited authors will be asked to submit their articles through the online portal.
November 15, 2019 - Acceptance/rejection decisions based on peer reviews communicated authors
January 15, 2020 - Final manuscripts due
References
Aguinis, H. & Lawal, S. O. (2013). eLancing: A review and research agenda for bridging the science–practice gap, Human Resource Management Review, 23(1), 6-17.
Botsman, R., & Rogers, R. (2010). What's mine is yours: The rise of collaborative consumption. New York, USA: Harper Collins.
Ganapati, S., & Reddick, C.G. (2018). Prospects and Challenges of Sharing Economy for the Public Sector. Government Information Quarterly, 35(1), 77-87.
Gansky, L. (2010). The mesh: Why the future of business is sharing. New York: Portfolio Penguin.
Mulcahy, D. (2016). The gig economy: The complete guide to getting better work, taking more time off, and financing the life you want. New York: AMACOM.
Parker, G., Van Alstyne, M., & Choudary, S. P. (2016). Platform revolution: How networked markets are transforming the economy and how to make them work for you. New York: WW Norton company, Inc.
PricewaterhouseCoopers. (2015). The sharing economy: Consumer intelligence series. https://www.pwc.com/us/en/technology/publications/assets/pwc-consumer-intelligence-series-the-sharing-economy.pdf
Sundararajan, A. (2016). The sharing economy: The end of employment and the rise of crowdbased capitalism. Cambridge: MIT Press.
The future of work: There's an app for that. (2015, January 3). The Economist. http://www.economist.com/news/briefing/21637355-freelance-workers-available-moments-notice-will-reshape-nature-companies-and
U.S. Department of Commerce, Economics and Statistics Administration, Office of the Chief Economist (ESA). (2016). Digital matching firms: A new definition in the "sharing economy: space (ESA Issue Brief #01-16). http://www.esa.gov/sites/default/files/digital-matching-firms-new-definition-sharing-economy-space.pdf